PENTHOUSE APARTMENT FOR RENT IN SUNSHINE RIVERSIDE - UPDATED IN 2022
There are only 14 penthouse apartment in Sunshine Riverside, the project is located at the beginning of Nhat Tan Bridge, on the land of Phu Thuong land of Hanoi capital, converging spiritual energy and auspicious in feng shui. Understanding and honoring those quintessential values, the penthouse apartment for rent in Sunshine Riverside has created a perfect home for all tenants.
OVERVIEW OF SUNSHINE RIVERSIDE APARTMENT
Sunshine Riverside has a land area of ​​11,953 m2, of which the construction area is 3,773m2, the basement area is 15,612 m2, and the floor area is 123,991m2. Sunshine Riverside has 932 apartments from 31 to 34 floors high and has 2 basements. Investor Sunshine Group has put in here 2500 billion with the expectation that Sunshine Riverside will be a place to go to class for successful businessmen.
LOCATION OF SUNSHINE RIVERSIDE PROJECT
Sunshine Riverside is located in the population of Ciputra Nam Thang Long urban area, Hanoi, so the project can enjoy the top-class facilities in Hanoi such as Ciputra Club, Ciputra Mall Trade Center Complex, International Golf Course… as well as being neighbors with a rich and civilized community. These are the tangible values ​​that make up the level of an upper-class settlement.
From Sunshine Riverside, owners of penthouses are only 500m from Nhat Tan Bridge, 1.5km from West Lake Flower Valley, 4km from Buoi Market, 1km from United Nations International School (UNIS), 9km from National University, Noi Bai International Airport has 18km...
LUXURY UTILITIES FOR UPPER RESIDENTS
Sunshine Riverside consists of 3 apartment towers combining 5 floors of podiums that are high-class commercial services, with internal utilities such as international schools, shophouses, and entertainment centers serving the community. and friendly landscape… Investor Sunshine Group has carefully researched between residential space and commercial facilities - useful services to create a population that surpasses the available advantages of establishing a space. live 5-star standard.
Utilities exclusively for owners of Penthouse apartments at Sunshine Riverside can be mentioned such as an outdoor swimming pool and 4-season swimming pool, a shophouse chain (adjacent) for business, a commercial center, a chain of restaurants, bars cafe, gym, yoga… Polyclinic, Cinema room, Inter-school or 5-star standard services: Room cleaning, Child pick-up, hourly maid, pet care, ornamental plants, laundry, airport transfer, flight booking….
PLANNING OF APARTMENT PENTHOUSE FOR RENT IN SUNSHINE RIVERSIDE CIPUTRA
Penthouse Sunshine Riverside is designed with a variety of 3-bedroom or 2-bedroom apartments, areas from 150m2 to 250m2. Possessing a 360-degree Panorama view with wide, sweeping views, owners of luxury penthouses can fully enjoy the cloudy sky, the West Lake river, and the romantic landscape along the Red River.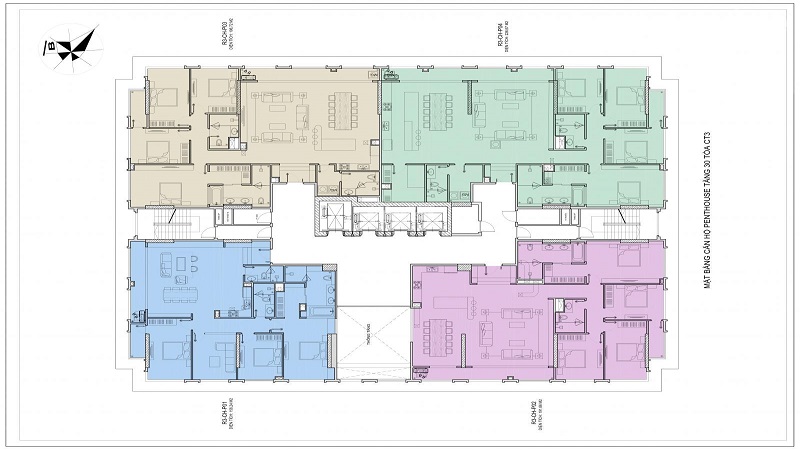 Planning of penthouse apartment in Sunshine Riverside R1 - R3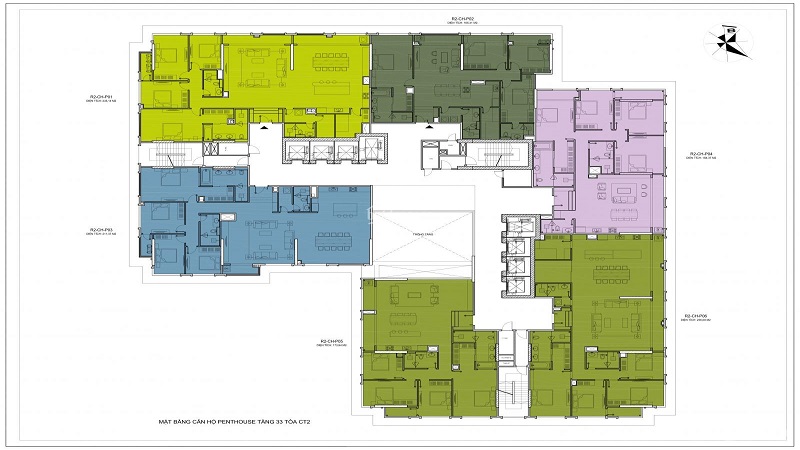 Planning of penthouse apartment in Sunshine Riverside
WHY SHOULD YOU RENT THE APARTMENT PENTHOUSE IN SUNSHINE RIVERSIDE?
- The project has completed the campus and installed equipment for the apartment, you can move in right away
- The penthouse at Sunshine Riverside is a small number of Penthouses in Ciputra Hanoi with the main view overlooking West Lake, Ciputra golf course, and Nhat Tan Bridge.
- Has a large area and Hometel standard, suitable for high-class businessmen
Convenient location, right in the largest urban area in the North of Vietnam, possessing a favorable location link with solid feng shui elements such as a stone table will definitely bring a source of abundant vitality, a place to live. Ideal for community residents.
Prestigious investor, the leading real estate investment unit in Vietnam owns a system of high-class projects across most of the provinces. With prestige, economic potential, and outstanding vision, customers can be assured of the product as well as the project's legality, ensuring bring real estate with real value to residents.
Tan Long Land - The trusted Agent of Real Estate in Hanoi is committed to becoming a solid bridge between customers and investors. We provide you a wide range of Hanoi housings list, Vietnam properties for sale and for rent, and regional housing services including apartments, serviced apartments, houses, shophouses, villas, and commercial real estate, with a team of professional and enthusiastic consultants who can speak English, Korean, Chinese,... For real tours and inspections of the property or penthouse apartment for rent in Sunshine Riverside or any real estate properties across the country - don't hesitate to contact us!